Background
The Diplomatic Security Service (DSS) is the security branch that protects Terran Senators, President, and visiting foreign politicians. DSS falls under the command of the Diplomatic Corps & Medical Corps.
Wherever a politician may travel, despite personal security agents, it is a requirement that a 12-man DSS Detail & Action Team travels with them if they leave the Home System or enter any environment considered hazardous. Other then that, a standard 4-man Protection Detail or PD is required wherever the politician travels, included in addition to his or her own personal security agents.
Both PDs and D&A Teams are required to provide both physical security to the politician, as well as other security measures including video surveillance, computer systems protection (anti-hacking / illegal monitoring), and law enforcement restraint and arrest of individuals who seek the unlawful visit or harm of the politician. All DSS personnel are free to engage any suspicious or hostile persons approaching or making threats to the politician under their protection and the DSS' scope of action is undefined, giving DSS personnel the right to choose the action (including lethal force) on a case-to-case basis.
The Federal Security Service (FSS) and DSS have a close working relationship and commonly work together. DSS personnel work in FIOS and have personnel assigned to PCPD as well.
Protection Detail and Detail & Action Team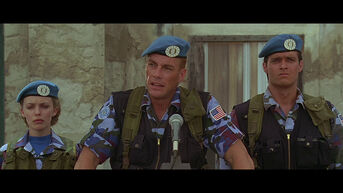 Both the Diplomatic Security Service Protection Detail (PD) and Detail & Action Team (D&A Team) is the DSS's standard security arrangements assigned to any singular politician when traveling.
During long flights, a D&A Team works in 8 hour shifts of 4 personnel on flights 24 hours or longer, ensuring that there is always DSS protection active and alert.
Both PDs and D&A Teams are equipped with armor vests (optional) and are armed with:
Radio Communications device
Recruitment & Training
Diplomatic Security Service personnel are recruited from the military only. Their requirements are very specific for recruitment:
1-2 year Infantry (Army or Marines)
Reenlist (if accepted and pass training) for an additional 4 years
Once accepted, DDS Recruits are sent through a 3 month training course. Once passed, they move towards a 1 month intensive specialty course for their chosen skill (cyber/computer security or physical security). Once all passed, the recruits become DSS personnel and get put into a unit.